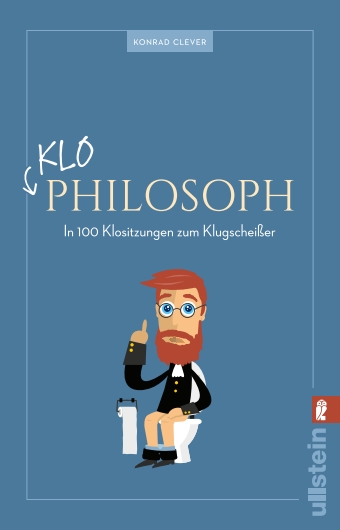 Have you always wanted to study philosophy but considered it sort of wanky and pretentious? Me too. So together with actual philosophy graduate (and very smart man), Lukas N.P. Egger, we sat down and made philosophy as funny, irreverent and accessible as it possibly can be (published under the pseudonym Konrad Clever). The result is Klo-Philosoph. You'll learn about the most interesting ideas, people and intellectual movements of the past two thousand years – in your toilet breaks! The whole book is divided into one hundred "sitzungen", followed by a test and should you pass that – a certificate you can fill out that certifies you as an official (Klo) Philosoph. Illustrated bountifully and beautifully by Robert M. Schöne aka Romibello. It's the first book in my new Klo-Universität series.
To be published (auf deutsch) by Ullstein Verlag, on the 6th November 2015. Their blurb for it:
Der durchschnittliche Bundesbürger verbringt jeden Tag zweimal sieben Minuten auf der Toilette – wertvolle Zeit, die wir einfach so verschwenden. Aber was wäre, wenn wir diese Momente nutzen könnten, um wirklich sinnvolle Dinge zu lernen? Wenn das Badezimmer, statt nur ein Raum der Erleichterung zu sein, zum Raum der Erleuchtung werden würde? Der Klo-Philosoph macht das möglich. In 100 Sitzungen erfahren wir, was Kant mit Superman gemeinsam hat, welcher Philosoph in einer Tonne lebte und wie man mit Hilfe der Philosophie attraktive Menschen auf Partys verführt.